Projects:
Website Design, Promo Design, Product Photography
This iteration of the U.S. Cellular website was a 2016 redesign of the Desktop home page incorporating the company's "Middle of Anywhere" branding campaign. The aim was to shift away from the brand's decidedly dated color palette and design, and help usher in a more modern look and feel while better aligning with current web design trends and best practices. The landscape and lifestyle photography helped to promote the brand's focus on the customer in our primarily small town and rural markets. The simplified content also helped to improve discoverability of products and promotions. 
Product Photography, Image Gallery
Shooting device photography in-house for the eCommerce site was my first major initiative on the web team. The goal was to enhance the online shopping experience by providing size comparison views of mobile devices. At the time, this feature was missing from competitors' websites. But considering the factors that might deter some customers from purchasing a phone online

—namely, the inability to use size and feel to help choose the right device—we accurately predicted that size comparison images would help improve our online sales.
In addition to shooting and retouching, I helped to devise the styling for consistent presentation, as well as develop and maintain the JSON image galleries.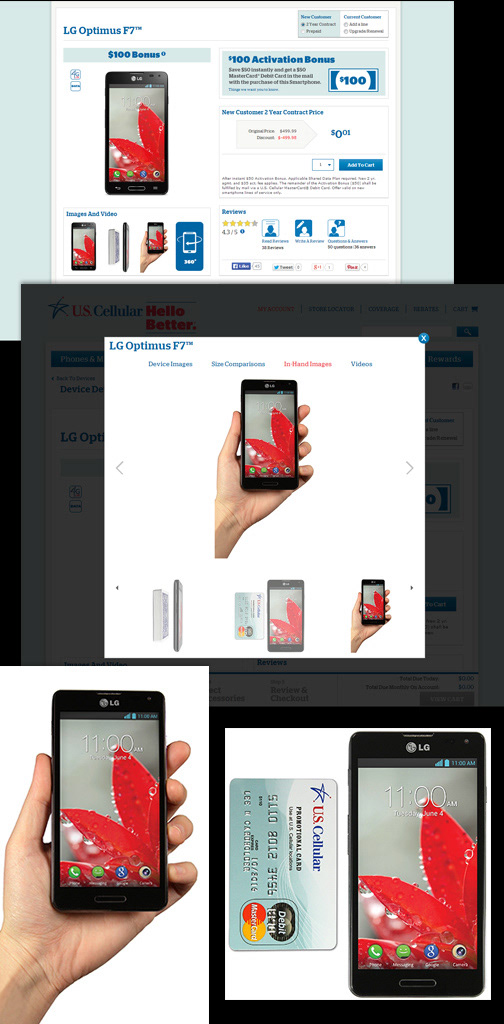 Working across departments including marketing, product management, fulfillment, and legal, I developed a number of landing pages for new products and services. We established an architecture for informational pages such as this that presented the content in a simple and intuitive way—a leading value statement, program features, and a call to action and promotion, here featuring some of our most popular accessories to add appeal to the new payment system.

These branded infographics were created in-house for our tech/lifestyle blog. The Cellphone Courtesy infographic became one of the blog's most shared posts to date.